Stress Scoring During COVID-19
If you're feeling stressed, you're not alone. We all feel some level of stress at times, and it manifests in different ways and for different reasons for each of us. We've taken a look at how activity and sleep have been impacted by COVID-19 and dug deeper to see if the EVŌ Stress Score measurement shows changes during this time when our world around us is changing is daily.
How Does EVŌ Measure Stress?
When you're using a fitness tracker that captures your heart rate, EVŌ receives this data and continually analyzes the incoming heart rate data to look for changes in your heart rate. This is used to create your Stress Score and whether that real-time score is categorized as a Low, Medium, or High Stress Event. You can view your stress category and data in EVŌ by tapping the Stress ring on your EVŌ dashboard!
How Stressed Have We Been Lately?
The afternoon on 3/13 is when a National State of Emergency was declared in the United States, and it's the pivot date when we saw changes in our users' behavior for activity and sleep. We are specifically looking at these date ranges for comparing the Stress Events:
2/1/2020 – 3/13/2020
3/14 – 3/31
April 1-30
May 1-31
We're not just looking at the streaming heart rate from our users but the variance between the users' baseline heart rate and jumps in the heart rate – Stress Events. Our analysis focuses on the Average Stress Events that are categorized as Low, Medium, or High Stress Events. We've averaged the users across gender to determine the average number of each Stress Event level during the given date range.
Take a moment and think about any times you've felt anxiety, stress, or overwhelmed in the last three months. I know my list is long!
Stress Events – EVŌ Women
While the Low Stress Events are interesting to compare against the Medium and High Stress Events, let's take a deeper look at the Medium and High Stress Event data.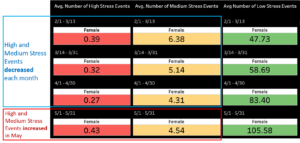 The average number of High and Medium Stress Events declined over time even after 3/13.
However, in May the average number of High and Medium Stress Events increased. On the High Stress Events, the May average is higher than February.
Stress Events – EVŌ Men
The EVŌ men have a slightly different story being told with their data.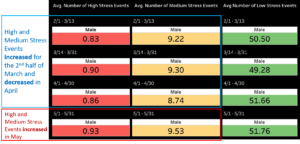 The average number of High and Medium Stress Events increased between 3/14-3/31 but then decreased for the month of April.
Similar to the EVŌ women, the men had an increase in the average number of High and Medium Stress Events for May. So much so that May outpaced the average number of High and Medium Stress Events than February!
Stress Events – Combined EVŌ Users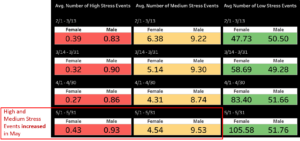 Regardless of the date range, the EVŌ women have logged less average Medium and High Stress Events than the men.
EVŌ men showed more stress impact for the 2nd half of March than the women did.
Why… What Has Changed?
Before the analysis, and using my own experience of how stressed I felt, I was expecting there to be far more Medium and High Stress Events across the board even with the increase in May. I know I spent days worrying about everything that is going on and feeling very reactive (or over reactive – How much toilet paper do you still have from March?).  Each time I'd spin up, I'd take a deep breath to calm down and find something to distract me.
Perhaps our feeling of stress is actually anxiety, fear, frustration, or anger that doesn't actually translate to our heart rates jumping as much as we expected. It could be the difference between emotional regulation and emotional reactivity. While the changes, decisions, worries, and impacts to our lives have increased, it might not have been enough to cause a fight-or-flight, acute stress response – we found ways (or already had the tools) to manage our stressors so that they weren't becoming overwhelming Stress Events.
Another thought is that while many of us started working from home, we simply swapped out one source of stress for another.
Work Stressors: Commuting, being in an office, productivity required during finite working hours, and balancing work with your personal life.
Home Stressors: Getting kids ready for school, homework, going from activity to activity, and maintaining your home.
Life Stressors: Finances, making time for yourself, staying healthy, cooking, cleaning, taking care of a pet, friend, or family member.
There is still work stress, but maybe it's more manageable when we're in the safe space – home – and not commuting. The kids' activities were mostly cancelled and we skipped the 7am struggle to get everyone out the door for school, but we had new changes with distance learning. I'm starting to think that while we felt a certain amount of stress, the stressors were different and maybe just the act of being home for most of it has impacted how our bodies react to the stressors.
What Can We Do?
When you are feeling overwhelmed do something for you and remember these healthy habits.
Get Active: Check EVŌ for your goal and take a walk. A little sweat, music, and the outdoors can help. We're running competitions – join in on the fun!
Sleep Well: Set your alarm to maintain a schedule. Turn off the TV and tech before bed and no late night exercise, drinking, or eating.
Quiet: We're working from home, make moments to keep drinking to stay hydrated. Take a break with a few deep breaths or stretches. Find quiet moments to stay centered.
Restorative Retreat: Turn off or tune out when you know you've hit your limit. Recognize when you need that time out and take it!
Come What May
With the exception of Medium Stress Events for the women, why did the Medium and High Stress Events increase in May to values even higher than February? We're going to need to look at the upcoming months to see if we have a new baseline average for these Stress Events, or if we're seeing another trend as yesterday's new and temporary becomes tomorrow's normal … Time will tell.
Be Well and EVŌ On! #EVO
-Carrie Baum
Sr. Director of Product Development