What's Cooking? Try a Meal Delivery Kit
A Fresh Look – Meal Delivery Kits
Last week's EVŌ Insider, What's Cooking? Dine in With a Plan, included tips on how to get started with meal planning not only as a way to reduce trips to the grocery store, but to also put focus on budget-friendly, healthy eating. I've been meal planning for about a year now, and in an effort to reboot my family's cooking routine, I decided to try a meal delivery kit.
A few weeks ago I tried Blue Apron for the first time. I initially put these systems in a category reserved for people who don't normally cook or need help cooking, and I can honestly admit … I was completely wrong!
Be Adventurous
I had a choice of three meals to pick for the week out of several options and only picked one super safe choice that I knew we'd enjoyed.
Garlic-Caper Chicken with Creamy Calabrian Zucchini & Orzo
Indian-Style Egg Skillet with Potatoes, Chickpeas & Cilantro Sauce
Pepita & Panko-Crusted Tofu with Rice & Cilantro Sauce
The chicken dish was our safe choice, we knew we'd like the tofu dish since we already use tofu in some of our cooking, but the Indian-Style Egg Skillet was our leap.
Everything we needed was provided in the box, portioned as expected, wasn't damaged (no broken eggs!), and was kept cold for its delivery to my home in South Florida. I was struck by how everything was packaged beautifully, and the attention to detail was impressive. The only thing we supplied was salt and pepper.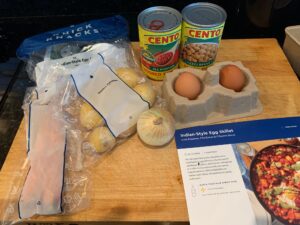 I reviewed the recipe card just to make sure I knew all of the steps and to get all of the prep work of washing and chopping out of the way. I approached this recipe as I usually do by planning in my head what I'd do first and next when I realized the recipe card was made specifically with that already handled. Following the steps exactly how they are laid out in the recipe naturally ensures everything is done in order without stress. I was blown away and realized this recipe system is perfect for anyone who is new to cooking or wants to fine tune their cooking time management or skills.
The instructions do a great job of walking someone through the steps, and the tone is in no way dumbed-down or elementary. It's a perfect combination of helpful and informative – not overwhelming or intimidating!  The meal took about 30 minutes to make and was delicious.

Indian-Style Egg Skillet with Potatoes, Chickpeas & Cilantro Sauce
Breaking Down the Recipe Revolution
The meals are fun to cook with anyone in your home whether it's roommates, friends, or your family.
Beginner cooks can do this with confidence while seasoned cooks will enjoy the more adventurous flavor combinations.
Discover new flavors and meal ideas without having to buy full sized spices and ingredients that might go to waste just to try something new.
Convenience: Delivered to my door, ingredients portioned perfectly, and no trip to the grocery store.
Reasonably Priced: When looking into a meal delivery system don't just look at the subscription cost compared against your grocery budget, but compare it against going out to eat or takeout – that is where the real savings comes in.
Reliably sourced ingredients, which Blue Apron prides themselves on.
Portion Control: Based on the serving selection for your subscription, the portions are spot on with less food waste.
Minimize the Mess: The step-by-step recipe card is created so many of the dishes are easily done without multiple pans. Just cook and enjoy without worrying about a sink full of cooking pans or utensils to tackle after your meal.
Mindful Eating: Many services offer recipe selections for vegetarian, vegan, carb conscious/diabetes friendly, Weight Watchers, under 500 calories, kosher, etc. Also, the servings naturally allow anyone who is watching what they eat via portion control to stay on plan as well.
All three of our meals were yummy, easy to make, and gave us even more ideas of what we like to cook and what flavors to put together. My experience with Blue Apron has definitely made me a fan of the meal delivery kits, and I can't wait to look for my next selections.
Be Well and EVŌ On! #EVO
-Carrie Baum
Sr. Director of Product Development
---