Wellness Trends in the Age of COVID-19
In just one month our daily lives have changed so rapidly that it's difficult to see how far we've come when we don't know what the future holds. It seems our daily life has come to a sudden halt.  The EVŌ Team took a moment to reflect and look at how our users' daily steps and sleep patterns might have changed during this time including correlations to the events around us.
Activity in Isolation
We first analyzed the Average Steps for our U.S. users starting with the week of March 9th, and we immediately saw a drop of Average Steps starting on Saturday March 14th. Applying the trend line we are able to see a slow, overall decline in Average Steps across the EVŌ U.S. users.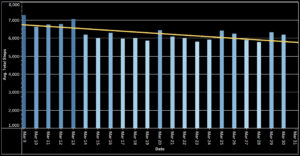 While we're all living the news and changes in real time, we had to actually step back and look at what happened leading up to and around March 13th.
1/21/2020: The first case on U.S. soil in Washington state is identified.
2/29/2020: The first patient infected with the novel coronavirus in Washington state passes away.
3/11/2020: The World Health Organization (WHO) declares the novel coronavirus a pandemic.
3/13/2020: A U.S. national state of emergency is declared. Reports of infected patients in New Rochelle, NY start coming out, and The National Guard were on their way to New Rochelle.
3/13/2020: Schools start announcing that they are closing through the end of March.
The data shows that we are being impacted by the worldwide events, but to what extent? We know activity is down; Let's now look at sleep.
Are We Going to Sleep With Clear Heads?
Exercise as part of your regular routine can contribute to more restful sleep. With a drop in activity, are our EVŌ users showing a reduction in Average Sleep Hours?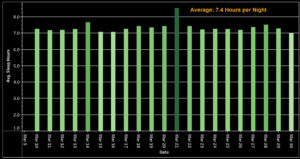 Starting with the week of March 9th, users are sleeping an average of 7.4 hours per night. This falls well within our recommendation of 7-9 hours of sleep per night, but what is most interesting is that there isn't a drop in sleep averages after March 13th like we see with steps.
We know that when we look at weekends alone, we typically see more sleep logged. Highlighting the weekends during this time frame, we see that the Average Sleep Hours during weekends in February was 7.4 hours, and the Average Sleep Hours during weekends in March was 7.6 hours.
There are two spikes of sleep on March 6th and March 21st where the weekend average for those two weekends jumps to 7.75 hours of sleep. Let's look at that jump in sleep on 21st, which is almost an 8.5 hours of sleep averaged across EVŌ U.S. users. What could have caused that when we aren't seeing a significant change in overall average sleep? Let's again look back at what was in the news between March 13th through 20th:
By this time:
Several school districts and universities announced an extension of closures through mid-April.
News of lines to get supplies started breaking including shortages in the supply chain.
Reports came out of people ignoring warnings as they continued with spring break vacations.
Well known sports, news, political, and entertainment figures announced they are infected.
Professional and college sports leagues started cancelling their seasons or putting them on hold indefinitely.
Other live events including concerts, festivals, and conventions were cancelled.
Shelter/Safer-at-home orders started in major cities including more people working from home  news outlets having their journalists, experts, and anchors reporting from home.
"Social Distancing" became a daily part of our lives and lexicon.
Delineations became clear on essential vs non-essential workers with the start of layoffs and furloughs, and a dialog ramps up regarding worker protections and their rights to be in a safe environment.
March 16th is called Black Monday II when the Dow futures tumbled more than 1,000 points and the Standard & Poor's 500 futures dropped 5% – triggering another circuit breaker to stop trading and course correct.
Daily briefings by the federal and state governments became the norm.
When we take a moment to review this list, it's daunting how much has changed in just a few weeks. This bump in sleep could be the impact that the news and reality of the virus hitting us at an emotional level. With the day-by-day changes and nature of our always connected lives, we're inundated with information – good and bad. The data shows us that on March 21st, at the most basic human level, we just needed some rest. #bettersleep
Our team continues to monitor activity and sleep day-by-day to see if there is a leveling out or more behavior changes to consider, as we all get used to our new, and hopefully temporary, norm.  The question now is: What can I do today?
EVŌ is here to provide insight and tips, because your overall wellness is more important now than ever while we all work together to be well for ourselves, our families, and our communities. The EVŌ Team continues to provide guidance on COVID-19 and how it relates to taking care of ourselves via activity, sleep, and stress management. We continue to deliver information on how to stay active while social distancing, providing our personal experience and human touch, and offering some new competitions along the way.
Be Well and EVŌ On! #EVO
-Carrie Baum
Sr. Director of Product Development
---