Diving Into Sleep Changes By Age
In our last EVŌ Insider post,  Our Users Asked: Is Our Sleep Impacted By COVID-19?, we took a look at how our sleep trends have changed from February through April. In part 2 of our series we're taking a deeper dive into how our sleep patterns have changed by age group.
Sleep by Age
When we group users by 10 year age ranges we start to see a bigger difference in total and deep sleep patterns than what we saw with gender. We admit these graphs have a lot of information, but we started seeing some common threads about the behavior of the age groups.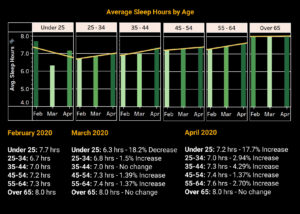 There were definite behavior patterns with the age cohorts in relation to Average Sleep Hours. We found that the age groups are falling into one of these categories:
Affected – "The storm is here, now!"
The Affected group quickly showed changes to their Total Sleep Hours with increases,  decreases, and swings in their averages and continued changes from month-to-month. 
Under 25
25 – 34 years old
Resistance – "I see the storm. I'm not too worried… yet. Should I be?"
The Resistance group showed little or no changes to their Total Sleep Hours at the start but greater changes as time went on. 
35 – 44 years old
55 – 64 years old
Adaptive – "I don't have time for the storm – carrying on."
The Adaptive group had a change to their Total Sleep Hours, but the change was gradual as time went on.
Calm – "I've been through storms before."
The Calm group remained level with little to no change to their Total Sleep Hours. 
Average Deep Sleep Hours
EVŌ users showed a lot more change to their Average Deep Sleep Hours over time. With the more drastic swings in Deep Sleep Hours, each age group is in the Affected category for deep sleep.
Deep sleep is often impacted by medical conditions and medications on top of the behavioral choices we make including the importance of getting enough total sleep to allow time to get into a deep sleep phase. The keys to getting enough total sleep include exercise, determining a set time to go to bed and having an alarm to wake up, and setting up a good sleep environment with pre-bed rituals (relaxation, no alcohol, and reduce technology and TV before bed).
Good Morning, Sunshine!
Take an opportunity to check your EVŌ Sleep goal and review these tips for healthy sleep habits. Pick one to work on for a few days, and once it has become a habit, see if there is another way you can help rule your sleep.
Be Well and EVŌ On! #EVO
-Carrie Baum
Sr. Director of Product Development
---